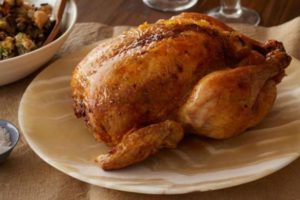 Ingredients:
Directions:
For the roast chicken: Preheat the oven to 350º F. Pat the chicken dry and place breast-side up in a large roasting pan fitted with a wire rack. Mix together the olive oil, marjoram, smoked paprika, salt and pepper in a small bowl. Gently loosen the skin over the breast of the chicken and rub a little of the mixute under the skin. Rub the remainder of the mixture all over the outside and inside of the chicken. Put the halved onion inside the chicken cavity and tie the legs together with butcher's twine. Tuck the wings underneath the chicken.
Roast until an instant-read thermometer inserted into the thickest part of the thigh not touching bone registers 165º F, or until the juices run clear when the tip of a knife is inserted into the thickest part of the thigh, 1 hour 45 minutes to 2 hours, basting the chicken with pan juices a few times during the last hour of roasting.
Mix the marmalade and vinegar together and brush over the chicken. Roast for an additional 5 minutes to set the glaze. Let the chicken rest for 30 minutes before slicing.