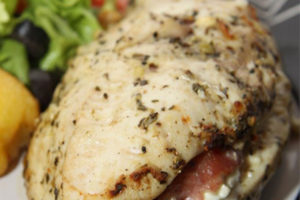 Ingredients:
4 skinless, boneless Chicken Breasts from Farmers' Market Poultry
4 slices Bacon from Huntington Meats, fried and drained
8 Tablespoons Olive Oil
2 teaspoons Lemon Juice
4 Cloves Garlic, crushed
1 Tablespoon Dried Oregano
4 slices Feta Cheese
Salt and Pepper to Taste
Directions:
Preheat oven to 350 degrees F (175 degrees C).
In a small bowl combine the oil, lemon juice, garlic, oregano, salt and pepper. Mix together. Place chicken in a 9″ x 13″ baking dish and pour oil mixture over chicken.
Stuff each chicken breast with 1 slice feta cheese and 1 slice bacon. Secure open sides with toothpicks.
Bake uncovered at 350 degrees F (175 degrees C) for 30 to 35 minutes.