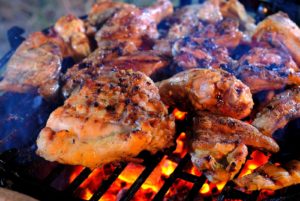 BBQ  Chicken on the Grill
Ingredients:
3 Garlic Cloves, minced
2 teaspoons Butter
1 Cup Ketchup
1⁄4  Cup Chili Sauce
1/4 Cup packed Brown Sugar
2 tablespoons Worcestershire Sauce
1⁄2  Tablespoon celery seed
1 Tablespoon Prepared Mustard
1⁄2 teaspoon Salt
2 dashes Hot Pepper Sauce
8 Chicken Pieces, bone-in with skin from Farmers' Market Poultry
Directions:
In a saucepan, saute the garlic in butter until tender. Add the next eight ingredients. Bring to a boil, stirring constantly. Remove from the heat and set aside.
Grill the chicken, covered over medium heat for 30 minutes, turning occasionally. Baste with sauce. Grill 15 minutes longer or until juices run clear. Continue basting and turning during the last 15 minutes of cooking. Serve with any extra sauce you set aside for dipping.