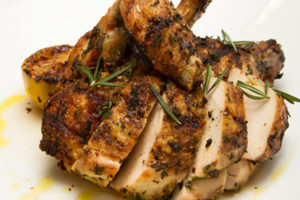 Ingredients:
1 whole Smart Chicken from Farmers' Market Poultry, halved*
2 Tablespoons roughly chopped Thyme
2 Tablespoons roughly chopped Oregano
2 Tablespoons roughly chopped Parsley
2 Lemons, zested and sliced
1 Tablespoon Chili Flakes
4 cloves Garlic, minced
2 Tablespoons Kosher Salt
½ cup Olive Oil
1 teaspoon freshly ground Black Pepper
*To halve a whole chicken: Use a large, sharp knife or kitchen shears to remove the backbone and cut through the breast bone, then cut through the breast plate to split the chicken in two.
Directions:
Preheat the oven to 350°F. Combine all ingredients and mix until well incorporated. Seal each half of the chicken in a plastic bag with the marinade, and refrigerate overnight. Heat a grill to medium-high heat and position chicken halves skin-side down so that as much of the skin as possible touches the grill grate. Grill to get some char and color before rotating the whole chicken 90 degrees with tongs. Turn the chicken over and repeat on the other side. Once nice color is achieved, transfer to the oven and roast at 350°F until the chicken has reached an internal temperature of 165°F. Rest for 10 minutes before serving.