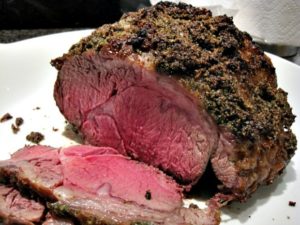 Ingredients:
Directions:
One hour before roasting the prime rib, remove from the refrigerator and let come to room temperature.
Preheat the oven to 500º F. Put the rib roast in a large roasting pan and set aside.
Put the olive oil, rosemary, sage, thyme, salt, pepper and garlic in a food processor and pulse until everything is combined but there are still some chunks of herbs. Rub the mixture all over the roast.
Roast for 20 minutes, then lower the oven temperature to 325º F. Roast until the internal temperature registers 130º F for medium rare, about 2 hours.
Let rest for 10 to 15 minutes, then slice into 1/2- to 1-inch thick slices and serve.