Orange–Coriander Glazed Ham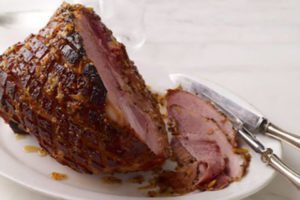 Ingredients:
1/2 fully cooked Bone-in Ham (about 7 lb total) from Huntington Meats
3 Tablespoons Coriander Seeds
1-1/2 teaspoon Black Peppercorns
1 12 oz. Jar Orange Marmalade
1/4 C. White Wine Vinegar
Directions:
Heat oven to 375°F. Place the ham, cut-side down, on a rack set in a roasting pan; add 1/4 cup water to the pan. Score the ham, if desired. Cover the ham and the pan with foil and bake for 40 minutes.
Meanwhile, using a heavy pan, crush the coriander seeds and peppercorns; place them in a bowl. Add the marmalade and vinegar and whisk to combine. Transfer 1/2 cup of the glaze to a small bowl and reserve for serving.
Brush half the remaining glaze (about 1/2 cup) over the ham and bake, uncovered, for 20 minutes. Brush the remaining glaze over the ham and bake until the ham is heated through and the internal temperature registers 140°F, 15 to 20 minutes more.
Serve with the reserved glaze.