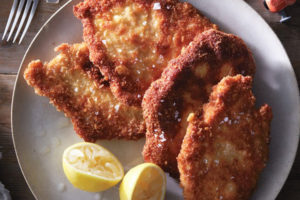 Ingredients:
4 Chicken Cutlets (about 1 1/2 pounds total), from Farmers Market Poultry
3/4 Cup all-purpose Flour
2 large Eggs
1-1/2 Cups Panko (or any fine breadcrumbs)
1/4 Cup grated Parmesan Cheese
1 Tablespoon Mustard Powder
Kosher salt, freshly ground Pepper
8 Tablespoons Extra Virgin Olive Oil, divided
1 Lemon, halved
Directions:
Place flour in a shallow bowl. Beat eggs in a second shallow bowl. Combine panko, Parmesan cheese, and mustard powder in a third shallow bowl and season mixture with salt and pepper.
Season chicken with salt and pepper, then dredge in flour, shaking off any excess. Transfer to bowl with beaten egg and turn to coat. Lift from bowl, allowing excess to drip back into bowl. Coat with panko mixture, pressing to adhere.
Heat 6 tablespoons oil in a large heavy skillet or a cast-iron skillet over medium-high heat. Working in 2 batches, cook cutlets, adding remaining 2 tablespoons oil to pan between batches, until golden brown and cooked through, about 4 minutes per side. Transfer cutlets to a paper towel-lined plate and season with salt.
Serve with lemon.