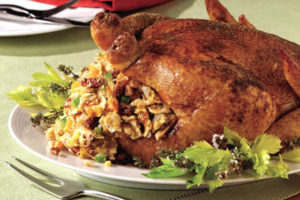 Ingredients:
1/2 cup Chicken Broth, warmed

3/4 cup Dried Apricots, finely chopped

1/4 cup (1/2 stick) Margarine, divided

1 medium Onion, diced

2 stalks Celery, diced

2 Eggs, lightly beaten

1 Cup Pecan pieces, toasted

2 Tablespoons Matzo Meal
1/2 teaspoon ground Thyme

Salt and freshly ground Black Pepper

Directions:
Preheat oven to 350°F. Mix broken matzos, chicken broth and apricots in medium bowl; set aside. Melt 3 Tbsp. of the margarine in large skillet. Add onion and celery; cook until crisp-tender, stirring occasionally. Add matzo mixture; mix well. Cool. Add eggs, pecans and matzo meal; mix well.
Rinse chicken; pat dry. Stuff chicken cavities with matzo mixture; close cavities with skewers and string. Place, breast side up, on rack in baking pan; brush with remaining 1 Tbsp. margarine, melted. Sprinkle with thyme, salt and pepper.
Bake 2 to 2-1/2 hours or until chicken is cooked through, basting occasionally.