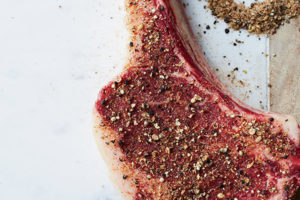 Ingredients:
2 (1-1/4-pound each), Prime Bone-in Rib Eye Steaks from Huntington Meats
2 tablespoons ground Coriander
1-1/2 teaspoons Light Brown Sugar
1-1/2 teaspoons Sweet Paprika
1 teaspoon Dry Mustard Powder
1 teaspoon Onion Powder
1 teaspoon Garlic Powder
Kosher Salt
2 Tablespoons Canola Oil
Directions:
In a bowl, whisk together everything except the steaks, salt and oil. Rub 1 tablespoon of the spice mix on each side of the steaks and let stand at room temperature for 1 hour.
Season the steaks with salt. In a large cast-iron skillet, heat the oil until shimmering. Add the steaks and cook over moderate heat, turning once, until medium-rare, 6 to 7 minutes per side.
Transfer the steaks to a cutting board and let rest for 10 minutes. Cut the steak off the bone, slice across the grain and serve.