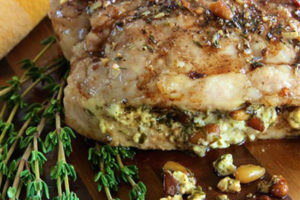 Ingredients:
4 Bone-in Pork Loin Chops, two-inch thick, from Huntington Meats
2 Tablespoons chilled homemade or store bought Basil Pesto
1 Tablespoon toasted Pine Nuts
1 teaspoon ground Black Pepper
1 teaspoon dried Oregano
1 teaspoon minced Garlic
1/2 teaspoon Red Pepper Flakes
1/4 teaspoon ground Thyme
2 Tablespoons Balsamic Vinegar
Directions:
Preheat oven to 375°.
Mix feta cheese, basil pesto, and pine nuts in a bowl. Use the tip of a sharp boning or paring knife to cut a 3-inch slit in the side of each pork chop, 2 inches deep and 1/4-inch away from the bone, to make a pocket for stuffing. Stuff pork chops with pesto filling and secure with toothpicks.
Mix black pepper, oregano, garlic, red pepper flakes, and thyme in a small bowl; rub both sides of each chop with the spice mix. Place chops into a shallow baking dish.
Bake in the preheated oven until chops are browned and stuffing is hot, about 40 minutes. An instant-read meat thermometer inserted into the center of the stuffing should read 145°. Brush chops with balsamic vinegar and bake until vinegar forms a glaze, another 5 minutes.