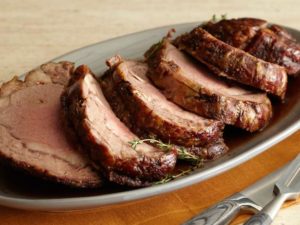 Ingredients:
Directions:
One hour before roasting the prime rib, remove from the refrigerator and let come to room temperature.
Preheat oven to 350º F.
Make small slits all over the prime rib and fill each slit with a slice of the garlic. Season liberally with the sea salt and coarse pepper, place on a rack set inside a roasting pan and roast for about 2 hours until medium-rare, or until a thermometer inserted into the center of the meat registers 135º F. Remove the meat to a platter, and tent with foil to keep warm.
Place the roasting pan on top of the stove over two burners set on high heat. Add the wine to the pan drippings in the pan and cook over high heat until reduced, scraping the bottom of the pan with a wooden spoon. Add the stock and cook until reduced by half. Whisk in the thyme and season with salt and pepper, to taste.
Slice meat as desired and serve with thyme au jus.