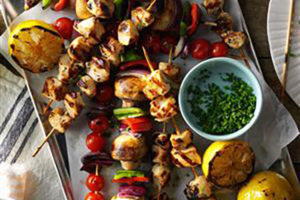 Ingredients:
2 pounds boneless skinless Chicken Breasts from Farmers' Market Poultry, cut into 1-inch cubes
1/3 cup Lemon Juice
5 tablespoons Olive Oil, divided
4 tablespoons White Wine
2 teaspoons crushed Red Pepper Flakes
2 teaspoon minced fresh Rosemary
3 medium Lemons, halved
Directions:
In a large resealable plastic bag, combine lemon juice, 4 tablespoons oil, wine, pepper flakes and rosemary.
Add chicken; seal bag and turn to coat. Refrigerate up to 3 hours.
Drain chicken, discarding marinade. Thread chicken onto six metal or soaked wooden skewers.
Grill, covered, over medium heat 10-12 minutes or until no longer pink, turning once.
Place lemons on grill, cut side down. Grill 8-10 minutes or until lightly browned.
Squeeze lemon halves over chicken. Drizzle with remaining oil. Serve hot.