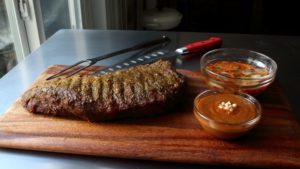 Ingredients:
1 (2-1/2 pound) trimmed Beef Tri-tip Roast from Huntington Meats
1/4 Cup finely minced Red Onion
1/3 Cup Fish Sauce
1/4 Cup Rice Vinegar
3 Tablespoons Soy Sauce
2 Tablespoons ground Coriander
1 Tablespoon ground Cumin
2 teaspoons ground Turmeric
1/2 teaspoon Cayenne Pepper
1/3 Cup packed Brown Sugar
2 Tablespoons Vegetable Oil
Directions:
Place garlic, lemon grass* (see note below), grated gingerroot, grated onion, fish sauce, rice vinegar, soy sauce, coriander, cumin, turmeric, cayenne pepper, brown sugar, and vegetable oil in a large mixing bowl. Whisk until ingredients are thoroughly mixed.
Transfer tri-tip roast to marinade. Poke both sides of the roast numerous times with the tines of a fork to get the marinade into the roast. Cover with plastic wrap. Refrigerate 2 to 12 hours. During the marinade time, remove the meat from the fridge occasionally to turn and poke some more with a fork.
Transfer roast to a paper-towel-lined tray to drain briefly. Reserve marinade.
Preheat covered grill to 325 degrees F (165 degrees C). Lightly oil the grill grate.
Cook roast covered, over indirect heat, basting with marinade and turning occasionally. Cook about 35 to 45 minutes, depending on how hot your grill is. An instant-read thermometer inserted into the center should read 130 to 135 degrees F (54 degrees C). Transfer roast to a cutting board and let rest at least 20 minutes before slicing.
Place any remaining marinade in a saucepan; bring to a boil. Simmer for two minutes. Use as a serving sauce if desired.
*Note: To prepare the lemon grass, peel off the woodiest parts. Pound with the back of a knife, then chop. Most big city grocery stores carry lemon grass, but in other parts of the country, it may be sold as a tubed puree, displayed in the produce department. If you can't find it, use lemon juice and zest.