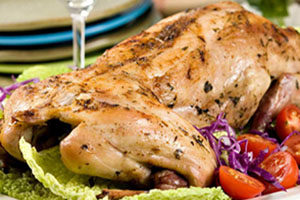 Ingredients:
1 (2-1/4 lb) Rabbit from Farmers' Market Poultry
Kosher Salt
White Pepper
4 Tablespoons Olive Oil
2 Garlic Cloves, finely minced
2 teaspoons finely diced fresh Rosemary
1 teaspoon Coriander Seed, crushed
1 teaspoon Black Peppercorns, crushed
1⁄4 teaspoon Red New Mexico Chile Powder
Directions:
Preheat oven to 475°
Line a sheet pan with parchment paper. Spread rabbit out as flat as possible and place it on prepared pan. Season both sides of rabbit with salt and pepper.
Combine oil, garlic, rosemary, coriander, peppercorns and chili powder in a small bowl. Rub mixture over both sides of rabbit. Cover and refrigerate 2-3 hours.
Uncover rabbit. Roast until tender and cooked through, 30-35 minutes.